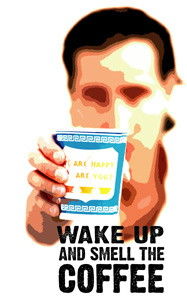 a play by eric bogosian
Wake Up

&
Smell the Coffee

Years ago, carnivals would post signs outside their fun houses with the warning, This is a dark ride.

Consider yourself warned.

Eric Bogosian's series of dark comic monologues takes us on a ride through modern life, from a businessman standing in line to an actor tap-dancing his way through an audition, from a father having a breakthrough in analysis to the ultimate sales pitch from a true god of marketing. The question is, is he holding a fun house mirror up to reality, or is it the other way around?

Needless to say, the show contains adult themes and language. A lot of language. He's not David Mamet or anything, but still...

This show will be premiering in Madison, IN during the first week of July before moving on to Louisville, KY and Indianapolis, IN. If the stars align, we will be winding up our tour at the end of the month in Los Angeles.
---
Tickets and Venues
To buy tickets online, click here. For information, addresses, directions and printable maps to our venues, click here.
---
The Artists

Joel David Santner glides from character to character, always keeping the show moving. (It's about coffee, of course it's always moving.) You may have seen him in Riverrun's inaugural production, Burn This, and you may have seen his work as a director with our Under Milk Wood last spring and Speed the Plow this past March. He also directed a short piece during our Theatre on the River festival at the 2004 Madison Chautauqua. His work as a writer and director was recently featured in the Third Annual Louisville Playwrights Festival. He has been a resident member of the Stage One Childrens' Theatre of Louisville acting company for the past three years. He is also a graduate of the Hanover College Department of Theatre, where you may have seen him in a variety of roles. Other work includes acting and directing with the Shawnee Theatre in Bloomfield, IN and directing with Spectrum Productions right here in Madison.

This production is directed by Jim Stark, artistic director and co-founder of the Riverrun Theatre Company. For Riverrun, he directed Burn This and performed in RiverWords in Madison and the tour of Professional Skepticism, which Riverrun co-produced with the South Carolina Repertory Company. He also played several roles in Riverrun's production of Under Milk Wood. His professional acting credits include theatres from Boston to Chicago, and south to Hilton Head Island, and abroad in Cyprus, Hungary and Japan. He is a member of Actors' Equity, the Chair of Theatre at Hanover College, and a regional representative for the Society of American Fight Directors.