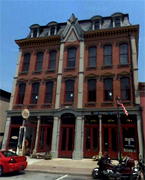 The Masonic Hall
217-219 East Main Street
Madison, Indiana
We will be performing Wise Man at the Masonic Hall, 217-219 East Main Street in downtown Madison. On the street level, you'll find the stores Something Special and Allways Pottery. The building is right across the street from the joeyg's restaurant.
The performances will be held on the third floor of the building, recently renovated and opened up for events. To reach the third floor, there is an elevator right inside the entrance to the Something Special store. There will be Riverrun ushers stationed throughout the building to get you to the performance space.
View Larger Map