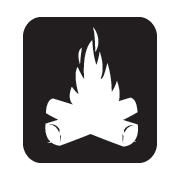 a play by david j. loehr
The Rough Guide


to the Underworld
what to do when you're going to hell
Take the journey of a lifetime. Get away from it all.
Just remember to book the round trip.
Three actors play approximately eighteen characters as we take a tour of the classical Underworld. Some of these people are well known, such as Mark Twain and Rachael Ray, while others are normal people like you and me. Everyone has a story to tell, and as long there's time...
Life and death, love and loss, comedy and drama, it's all here. And there are even good tips for travellers, from restaurant advice to warnings about the importance of staying on the trail. After all, it is the ultimate guide book for wandering eternity. Don't leave this world without it.
A world premiere production, The Rough Guide to the Underworld is an original play written by David J. Loehr, Artist-in-Residence with the Riverrun Theatre Co. It has been directed by Jim Stark, Artistic Director.
---
Tickets and Information
Tickets are $12 for adults, $8 for students. They will be available at the door, or you can buy online right here. For information, addresses, directions and printable maps to our venue, click here.
For some more background on the script and its creation, please click here.
---
The Cast
Lindsay

Bullock

Lindsay Bullock is also Riverrun's Director of Education. She received a Bachelor of Arts degree in theatre from Hanover College. She taught at the National High School Institute's theatre program held at Northwestern University, and has continued to teach theatre workshops locally, including The Play's the Thing, a workshop on creativity and comprehension, teaching elementary age students how to craft and perform a play from scratch. She has also designed and taught a theatre-based program for preschool children. She has also worked with the Indianapolis Symphony Orchestra, designing and teaching educational programs. She performed onstage with Riverrun Theatre in RiverWords and Under Milk Wood. As part of the Theatre on the River festival during the 2004 Madison Chautauqua, she performed several roles in an early version of this play.
Jim

Erikson

Jim Erikson has performed for Riverrun Theatre in several productions, including our inaugural production, Burn This here and in Louisville. He also appeared with Riverrun as part of the Theatre on the River festival during the 2004 Madison Chautauqua, where he performed in an early version of this play. He is a veteran of three years' worth of the Louisville Playwrights Festival, including a turn as a mime in this past spring's The Secret Life of Clowns, directed by Riverrun artistic associate Joel David Santner. He also appeared in the Louisville production of Inspected by #35, a play by Hanover alum Joe Crosser. While studying at Hanover College, he performed in several productions, including the roles of Romeo in Romeo and Juliet and Borachio in Much Ado About Nothing.
Jim

Stark

Jim Stark is the artistic director and co-founder of the Riverrun Theatre Company. For Riverrun, he has performed in RiverWords in Madison and the tour of Professional Skepticism, which Riverrun co-produced with the South Carolina Repertory Company. He also played several roles in Riverrun's production of Under Milk Wood. His professional acting credits include theatres from Boston to Chicago, and south to Hilton Head Island, and abroad in Cyprus, Hungary and Japan. He is a member of Actors' Equity, the Chair of Theatre at Hanover College, and a regional representative for the Society of American Fight Directors.
---
The Crew
Playwright / David J. Loehr

David is the artist in residence and co-founder of Riverrun Theatre. His play Keeper was performed here and filmed in 2004. A Report of Gunfire was part of the this year's Louisville Playwrights' Festival. He appeared onstage as the Second Voice in Under Milk Wood. He also appeared at the Theatre on the River as the third actor in an early version of this play. Written on September 11, 2001, The Silence Between Lines of a Poem was presented at the Hanover College Theatre ten days later. Outside of writing, he has designed artwork for Riverrun, Pet Fish Productions, the Indiana Shakespeare Festival, the Hanover College Theatre and more. He designed the sound for Riverrun's productions of Burn This and Professional Skepticism. Most recently, he designed the sound and lighting for Wake Up and Smell the Coffee. He has also designed the sound and video components of this production. He has a wife, two children, two cats and a few more grey hairs.
Director / Jim Stark

Jim is the artistic director and co-founder of the Riverrun Theatre Company. For Riverrun, he directed Burn This and the childrens' show The Sapphire Comb, another world premiere production. This past spring, he directed A Report of Gunfire, also by David J. Loehr, as part of the Louisville Playwrights' Festival. Most recently for Riverrun, he directed the touring production of Wake Up and Smell the Coffee. He has also directed several productions locally over the last few years in his role as the Chair of Theatre at Hanover College.
Costume Design / Wanda McGuire

Wanda has recently moved to Hanover and has recently worked with Actors Theatre of Louisville. She moved from Los Angeles, CA where she taught costume construction at the Fashion Institute of Design and Merchandising at UCLA. She has worked at the Mark Taper Forum, Hartford Stage, the Pennsylvania Shakespeare Festival and Utah Shakespeare, to name a few. Costume designs include Joseph and the Amazing Technicolor Dreamcoat, Hatfields and McCoys, Shenandoah, Hamlet, The Fantasticks, and Julius Caesar. She has also been a guest artist with the Hanover College Theatre, designing costumes for several productions in the last two years. For Riverrun, she designed the costumes and some set pieces for The Sapphire Comb last fall.