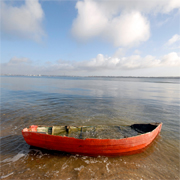 a play by david j loehr
What Song the


Syrens Sang
27 April 2007 @ 10:30pm
A poem should not mean, but be.
-- Archibald MacLeish, "Ars Poetica"
Click here to see some footage from the Late Seating performances at Actors Theatre of Louisville.
What happens when two women look for meaning in an elliptical poem by the late Richard Madoc? And what happens when the late poet finally shows up? This short play by our Artist-in-Residence, David J. Loehr, plays with language and reality, asking which is more valid, what the poet wrote or what we think he wrote? It shouldn't surprise anyone that this is being presented in celebration of National Poetry Month, an annual celebration begun by the American Academy of Poets.
"This is actually part of a larger project about the life and poetry of Richard Madoc," says Loehr. Madoc was a Welsh poet of the mid to late twentieth century, known for his use of Welsh poetic forms and styles such as cynghanedd--which literally translates from the Welsh as harmony--and englyn, emulating their rhythms in the English language.
It should be noted that Richard Madoc did not actually exist. This hasn't stopped Loehr from bringing out his work at the occasional poetry reading and blurring the lines a bit. "It's a little more fun to present the work as existing outide of my own work," he says. "It's also interesting to see how many people come up afterwards, convinced they've read his work or about him somewhere else. Until now, that's been impossible."
Now, Richard Madoc will be appearing "live and in person" on the stage at Actors Theatre of Louisville this April 27 as part of The Late Seating, an eclectic bill of performers including theatre, live music, visual arts and the Squallis Puppeteers. Directed by Jim Stark and featuring several of Riverrun's associate artists, What Song the Syrens Sang is Riverrun's contribution to the program, a ten minute play about two women in the world of Richard Madoc.
---
Tickets and Information
The Late Seating at Actors Theatre of Louisville
27 April 2007 @ 10:30pm
Tickets are $10 for adults, or $5 with an Actors Theatre ticket stub. You can buy them online right here or you can call 1.800.4.ATL.TIX, or 1.800.428.5849, to purchase by phone.
The show starts at 10.30 pm and includes a full bill of short plays, live theatre, music, visual arts and even Louisville's own Squallis Puppeteers.
For more information, addresses, directions and printable maps, click here.
---
The Cast
Jim

Erikson

Jim Erikson has performed for Riverrun Theatre in several productions, including our inaugural production, Burn This here and in Louisville. This season, he played several roles in The Rough Guide to the Underworld. He also appeared with Riverrun as part of the Theatre on the River festival during the 2004 Madison Chautauqua, where he performed in two different shows. He is a veteran of three years' worth of the Louisville Playwrights Festival, including a turn as a mime in last year's The Secret Life of Clowns, directed by Riverrun artistic associate Joel David Santner. He also appeared in the Louisville production of Inspected by #35, a play by Hanover alum Joe Crosser. While studying at Hanover College, he performed in several productions, including the roles of Romeo in Romeo and Juliet and Borachio in Much Ado About Nothing.
Kate

Glasheen

Kate Glasheen is an associate artist with Riverrun Theatre Co. Originally from Cincinnati, Kate earned bachelors degrees in Theatre Performance and English Literature from Butler University in Indianapolis. Roles at Butler include Rosencrantz in Rosencrantz and Guildenstern are Dead, Lillas Pastia in The Tragedy of Carmen, and Kate in Sylvia. She has toured nationally with Bridgework Theatre and Madcap Puppet Productions. Other credits include three summers at the Shawnee Professional Summer Theatre and a season at the sketch comedy and rock and roll club, Shadowbox, in Newport, KY. Kate also had the opportunity to study directing at the University of Ulster in Colerain, Northern Ireland.
Lindsay

Bullock

Lindsay Bullock is also Riverrun's Director of Education. She received a Bachelor of Arts degree in theatre from Hanover College. She taught at the National High School Institute's theatre program held at Northwestern University, and has continued to teach theatre workshops locally, including The Play's the Thing, a workshop on creativity and comprehension, teaching elementary age students how to craft and perform a play from scratch. She has also designed and taught a theatre-based program for preschool children. She has also worked with the Indianapolis Symphony Orchestra, designing and teaching educational programs. She performed onstage with Riverrun Theatre in RiverWords and Under Milk Wood. This season, she performed several roles in The Rough Guide to the Underworld, and directed Jacob Marley's Christmas Carol.
---
The Crew
Playwright / David J. Loehr

David is the artist in residence and co-founder of Riverrun Theatre. He is primarily a writer. The Rough Guide to the Underworld premiered here this season. Keeper was performed here and filmed in 2004. A Report of Gunfire was part of last year's Louisville Playwrights' Festival. His Penguins was one of the short plays at Riverrun's Theatre on the River in the fall of 2004. Written on the afternoon of September 11, 2001, The Silence Between Lines of a Poem premiered at the Hanover College Theatre ten days later, with all proceeds going to charity.
Outside of writing, he has designed artwork for Riverrun, Pet Fish Productions, the Indiana Shakespeare Festival, the Hanover College Theatre, the Arden Theatre of Indianapolis and more. He appeared onstage as the Second Voice in Under Milk Wood. He designed the sound for Riverrun's productions of Burn This and Professional Skepticism. Last season, he designed the sound and lighting for Wake Up and Smell the Coffee. He has also designed the sound and video components of just about all of Riverrun's shows. He has a wife, two children, two cats and a few more grey hairs.
Director / Jim Stark

Jim is the artistic director and co-founder of the Riverrun Theatre Company. For Riverrun, he directed Burn This, as well as the premiere productions of The Rough Guide to the Underworld, by David J. Loehr, and the childrens' show The Sapphire Comb, by Moses Goldberg. This past spring, he directed A Report of Gunfire, also by David J. Loehr, as part of the Louisville Playwrights' Festival. Most recently for Riverrun, he directed the touring production of Wake Up and Smell the Coffee. He has also directed several productions locally over the last few years in his role as the Chair of Theatre at Hanover College.