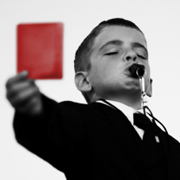 a play by marie jones
A Night in

November
get your irish up
30 November 2007 @ 6.30 pm
A Step Back Gathering Hall has cancelled the 23 November performance. To reserve seats for the 30 November performance, please call 812.293.2225 or email them here.
"That day started out like every other day starts out. Check under the car for explosive devices."
With these words, the Riverrun Theatre Co. revisits one of the most popular shows of its 2006-07 season with A Night in November, a play by Marie Jones, directed by Tom Evans.
The play tells the story of one Kenneth Norman McCallister, a Protestant man in Belfast, Northern Ireland in 1994. All his life, he has put his head down and gone about his business, doing his best to ignore the stuggle between the Catholics and the Protestants, Northern Ireland and the Republic of Ireland. But one day, thanks to a soccer match between the two Irelands, he begins to see the light. He sees the lie that has been his life, and he tries to figure a way out. Fortunately for him, it's almost time for the World Cup. In America.
"Kenneth's journey is more than simply from Belfast to Dublin to New York," said Jim Stark, who stars in the play. "He begins with one mindset and evolves by the end of the story. It's really a story about repentance, redemption, even rebirth. And soccer." Stark portrays Kenneth, along with twenty other characters, give or take. "And there's plenty of give and take with these people. We're talking Irish soccer fans, Northern Irish loyalists, Protestants and Catholics...but in the end, the story and the telling of it are all filtered through Kenneth's perspective."
"Though it's set in Ireland in 1994, it resonates with current events both within Ireland and around the world," added David J. Loehr, artist-in-residence. "Sectarian violence, occupation forces, these are phrases we hear regularly now. Ireland has been living with this for decades.
With the continuing success of the recent St. Andrews Agreement proposals--a British-Irish plan to begin transferring power from Britain to local rule under a Belfast-based government shared by both Catholics and Protestants--Marie Jones' play about tolerance is more relevant than ever. "In Kenneth's story, we can see the beginnings of what led to the St. Andrews Agreement. But this show is not a heavy political drama at all," said Stark. "Kenneth is basically a good person who's been conditioned to accept things as they are. The grass may genuinely be greener on the other side."
"This story is the kind of play I like best, the kind that makes you think," added Tom Evans, the play's director. "It's really the kind of comedy that won't let you not think, if you get my meaning."
Riverrun's original production of this show sold out its original run in Madison last season, and we had to add performances while on tour. So if you saw it before and enjoyed it, come see it again. Better yet, bring friends. And if you missed it the first time, here's a rare second chance to catch the show.
---
Tickets and Information
23 + 30 November 2007 @ 6.30 pm
Performances will be at A Step Back in New Washington, Indiana. Tickets are $24.95 per person, which includes dinner, dessert and the show. Seating is limited, so please reserve your seats by calling A Step Back at 812.293.2225 or email them here.
You can also sign on to our mailing list for further information and updates.
For information, addresses, directions and printable maps to our venues, click here.
---
The Cast
Jim

Stark

Jim Stark is the artistic director and co-founder of the Riverrun Theatre Company. For Riverrun, he has performed in RiverWords in Madison and the tour of Professional Skepticism, which Riverrun also co-produced with the South Carolina Repertory Company. He also played several roles in Riverrun's production of Under Milk Wood. Most recently, he played six roles in Riverrun's production of The Rough Guide to the Underworld. His professional acting credits include theatres from Boston to Chicago, and south to Hilton Head Island, and abroad in Cyprus, Hungary and Japan. He is a member of Actors' Equity, the Chair of Theatre at Hanover College, and a regional representative for the Society of American Fight Directors.
---
The Crew
Playwright / Marie Jones

A founder member of the theatre Charabanc, she has written numerous plays which have been staged across the world.
She has written for the Dubbeljoint Theatre Company and her award-winning work includes Stones in his Pockets, A Night in November and Women on the Verge of HRT.
Her awards include the 1999 Irish Times award for best production and best actor, the Olivier award for best new comedy in 2001 and the Evening Standard Award in 2000.
She was recently appointed to the management board of the Tyrone Guthrie Centre in County Monaghan.
Director / Tom Evans

Tom Evans directed the theatre program at Hanover College from 1967 to 1999. His productions there earned four national ACTF awards for Peer Gynt, A Man's a Man, plus two original student works. He is the recipient of the ACTF Silver Medallion of Excellence awarded in 1974. In 1990 Governor Evan Bayh appointed both Tom and Barbara as Sagamores of the Wabash. In 2001, he was a member of College of Fellows of the American Theatre sponsored by the Kennedy Center in Washington, D.C.
As a director Tom is particularly proud that his Hanover College production of The Hairy Ape was the first play ever staged at Tao House, Eugene O'Neill's California home near San Francisco. He is also proud of his most nationally known graduate, Woody Harrelson. One of his most notable proteges is fellow Hoosier playwright, Jim Leonard. Under Tom's direction Leonard's first two plays, And They Dance Real Slow in Jackson and The Diviners, were written and premiered at Hanover College and have gone on to numerous productions around the country. Tom directed both in their professional debuts, Diviners at Circle Rep in New York, and Jackson at New Playwrights' in DC.
Costume Design / Wanda McGuire

Wanda has recently moved to Hanover and has recently worked with Actors Theatre of Louisville. She moved from Los Angeles, CA where she taught costume construction at the Fashion Institute of Design and Merchandising at UCLA. She has worked at the Mark Taper Forum, Hartford Stage, the Pennsylvania Shakespeare Festival and Utah Shakespeare, to name a few. Costume designs include Joseph and the Amazing Technicolor Dreamcoat, Hatfields and McCoys, Shenandoah, Hamlet, The Fantasticks, and Julius Caesar. She has also been a guest artist with the Hanover College Theatre, designing costumes for several productions in the last two years. For Riverrun, she designed the costumes and some set pieces for The Sapphire Comb last fall and The Rough Guide to the Underworld and Jacob Marley's Christmas Carol this season.